Gravity roller conveyor type RC50G
If it is not a humid environment or stainless steel is not required, an aluminium gravity roller conveyor can be applied. The possibilities of aluminium roller conveyors are endless. The most frequently applied gravity roller conveyor is a gravity roller conveyor type RC50G.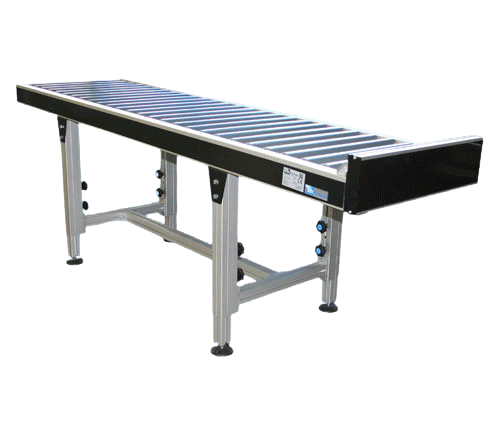 Terms of application
The RC50G gravity roller conveyor is the most versatile non-driven roller conveyor in its class. This versatile gravity roller conveyor has many variants and to apply the RC50G roller conveyor, your application should meet the following conditions to ensure a long service life:
Environment: Dry and clean to lightly soiled
Roller diameter: Ø20 / Ø30 / Ø50 mm
The basic frame of the driven roller conveyors RC50G consists of an aluminium profile designed from the experience of our users.The T-slots in the profiles are designed in such a way that standard fasteners can be tilted in. This means that various components (such as side guides or photocells) can easily be fitted to the frame by the customer after delivery. The T-slots can also be sealed later.

Partly because of the modular concept, the possibilities in terms of dimensions, pitch, roller diameter, roller type (plastic, steel, aluminium and stainless steel), frames and side guides are endless.


Technical specifications
Basic: Aluminium frame with integrated cable ducts on both sides
Curve modules: 30°, 45°, 60°, 90° and 180°
Roller width: approx. 100 - 1,200 mm (very fast delivery: 410 - 510 - 610 mm)
Roller diameter: 50 mm (20 mm / 30 mm)
Roller pitch: 55 - 75 - 100 - 125 mm
System length: unlimited
Options:
Frame performed with high or low profile
Galvanised steel, plastic or stainless steel rollers
Roller tracks instead of rollers
(Pneumatic) Ball pots instead of rollers
Folding section
Undercarriage
Adjustable side guide
End stop
For all options, please
contact
us.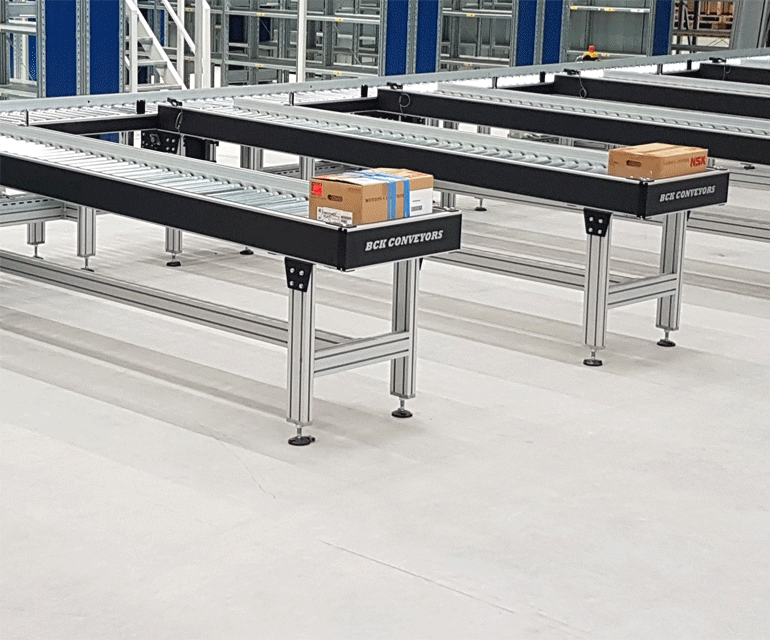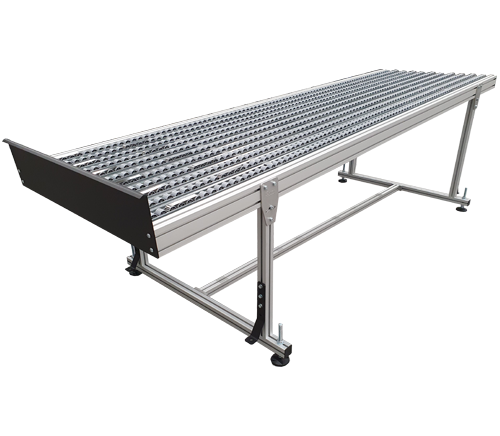 Roller tracks instead of rollers
If the diversity of products is large in size and/or weight, it can be difficult to properly buffer all products on a gravity roller conveyor. Either they move too fast or too slow. From experience, BCK Holland knows that an aluminium roller conveyor with roller rails (also called wheel list, roller list, roll list or roller conveyor) works better in this situation. Products that go too fast can still be braked with brake plates if necessary.
Ball transfer unit instead of rollers
BCK ball tables are used for, among other things:
transferring products at right angles
handling heavy products (the product can be moved in any direction)
as an aid for manually moving or positioning products
A prerequisite is that the product has a stable and smooth base. Some advantages of ball tables are:
saving of labour hours
movement possible in X and Y directions
contributes to a continuous process
system is custom-made.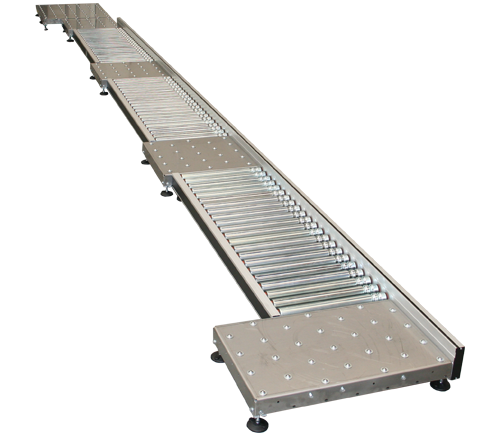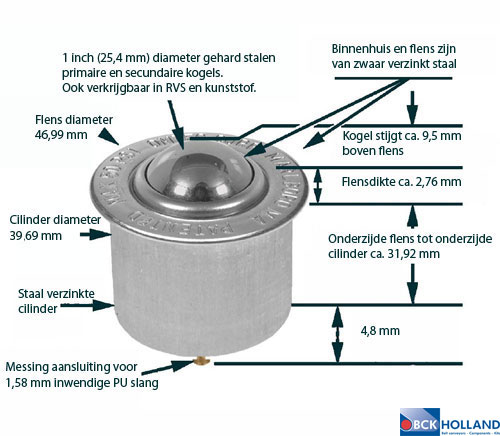 Pneumatic ball transfer units and positioning pads
Standard (fixed) ball transfer units are often very convenient, but by applying pneumatic ball transfer units and pneumatic positioning pads, a very safe and ergonomic workplace can be created quite easily. These components are often used in combination with roller conveyors, work tables and/or lifting tables. BCK Holland can supply these complete with an air supply unit and switch(s).

The load capacity of the pneumatic ball transfer unit is approximately 23 kg, but due to various factors, the pneumatic ball transfer unit is best applied when a load capacity of between 2.3 and 13.6 kg per ball transfer unit is required. The load capacity of the pneumatic positioning pad is somewhat lower, at around 9 kg per pad. A pneumatic ball pot or positioning pad consumes very little air. Approximately 0.0000108 cubic metres are consumed per cycle.


Practical example with various gravity roller conveyors type RC50G
Practical example with pneumatic ball transfer units