Powered flexible roller conveyors
The powered flexible roller conveyors are often used, for example, for efficient and health and safety-friendly loading and unloading of trucks. They are easy to use and can be quickly adapted for a new application. By connecting driven roller conveyors with connectors, a very long distance can be created.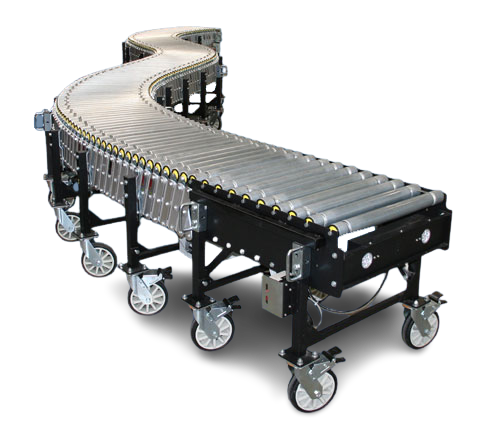 Terms of application
This versatile powered flexible roller conveyor has many variants and to apply this roller conveyor, your application should meet the following conditions to ensure a long service life:
Environment: Dry and clean to slightly dirty
The powered flexible roller conveyor is a roller conveyor that can be extended and retracted just like a harmonica. Because the roller conveyor works like a harmonica, it is also possible to make a turn with the roller conveyor. The flexible roller conveyor is supported by several trolleys with wheels. The frames are height-adjustable, so that the height can be adjusted to the user. The wheels are fitted with brakes. It is also possible to equip the powered roller conveyor with an impact section on which the goods can be placed.
Technical specifications
The powered flexible roller conveyors consist of independent, flexible shears. They are:
available in various widths, namely 460, 610, 760 and 900 mm
extendable to a desired length
maximum pitch (when fully extended): 130 mm
fitted with load rollers made of galvanised steel tube with a diameter of 50 mm
fitted with brushless motors, adjustable from approx. 6 to 35 m/min
number of start/stops: max. 400/hour
provided with bolted flexible connections (not riveted)
fitted with an undercarriage every 1,040 mm
infinitely adjustable in height (H = 730 - 900 mm)
mobile by means of heavy-duty swivel castors Ø 200 x 45 mm, some of which are equipped with a simple brake control
each end fitted with a start/stop and emergency stop button
load capacity up to 250 kg per metre (transport capacity up to 100 kg/meter)
flexible, easy to form bends, such as S-bends
expandable with various options such as:
coupling and uncoupling support
hinged end stop
transport capacity up to 150 kg/meter
electronic end stop
LED lighting unit
weighted end section with LED lighting
function to accumulate zero pressure based on time
3 phase 380V (standard 1 phase 240V)
extension with flexible gravity roller track
other maximum pitch of the rollers: 67 mm or 102 mm
other lengths, heights, widths and roller diameters possible.
For all possibilities, please
contact
us.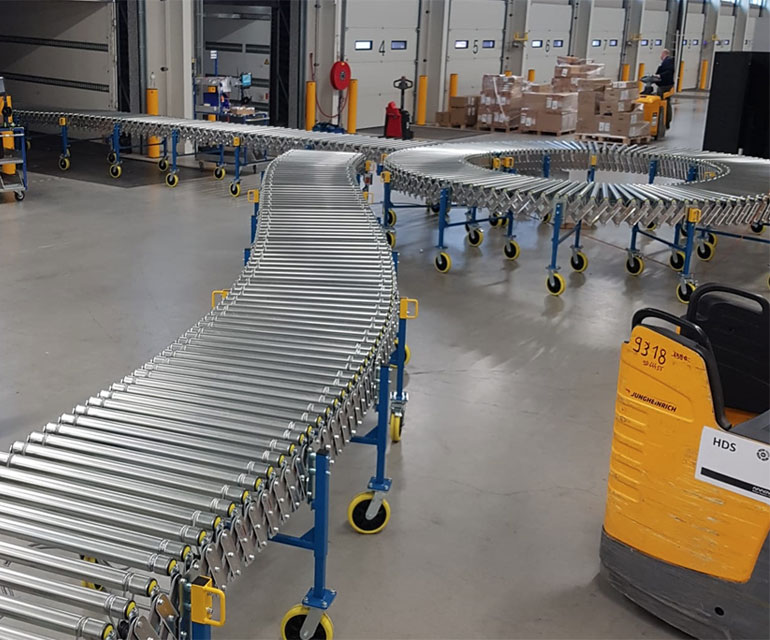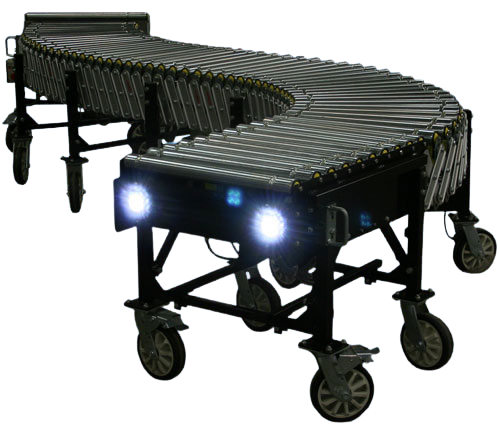 The table below lists the standard versions. Click on the article number to request a price by e-mail.
| | | | |
| --- | --- | --- | --- |
| Width | Minimum length | Maximum length | Article number |
| 460 | 4,00 m | 8,75 m | TC3610450080 |
| | 5,13 m | 11,25 m | TC3610450110 |
| | 6,27 m | 13,75 m | TC3610450130 |
| | 7,41 m | 16,25 m | TC3610450150 |
| 610 | 4,00 m | 8,75 m | TC3610600080 |
| | 5,13 m | 11,25 m | TC3610600110 |
| | 6,27 m | 13,75 m | TC3610600130 |
| | 7,41 m | 16,25 m | TC3610600150 |
| 760 | 4,00 m | 8,75 m | TC3610750080 |
| | 5,13 m | 11,25 m | TC3610750110 |
| | 6,27 m | 13,75 m | TC3610750130 |
| | 7,41 m | 16,25 m | TC3610750150 |
| 900 | 4,00 m | 8,75 m | TC3610900080 |
| | 5,13 m | 11,25 m | TC3610900110 |
| | 6,27 m | 13,75 m | TC3610900130 |
| | 7,41 m | 16,25 m | TC3610900150 |
Practical example with powered flexible roller conveyor