Powered roller conveyor type RD50
The most commonly used roller conveyor is a roller drive roller conveyor. Roller drive roller conveyors are often used for conveying, thrustless buffering and separation of (large) dimensionally stable products such as boxes or crates by means of zones.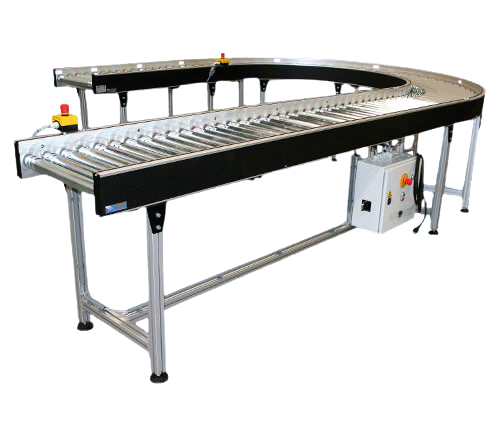 Terms of application
Important features are: drive by motor rollers (brushless), low noise level, low energy consumption (e.g. braking energy is fed back into the 24 V network) and high speeds. They are also widely used for short runs and in intelligent systems. This versatile powered roller conveyor has many variants and to apply the RD50 roller conveyor, your application must meet the following conditions to ensure a long service life:


Environment: Dry and clean to lightly soiled
The basic frame of the powered roller conveyors RD50 is constructed from an aluminium profile designed from the experience of our users. The T-slots in the profiles are designed so that standard fasteners can be tilted in from the side. As a result, various components (such as side guides or photocells) can easily be fitted to the frame by us or the customer after delivery. The T-slots can also be sealed later with a plastic sealing profile.

Due to standardisation, the powered roller conveyors are available in various widths. Partly due to the modular concept, it is possible to supply various types of powered roller conveyors.


Technical specifications
Basic: Aluminium frame with integrated cable ducts on both sides
Curve modules: 30°, 45°, 60°, 90° and 180°
Roller width: approx. 310 - 1,010 mm in 50 mm increments (very fast delivery: 410 - 510 - 610 mm)
Roller diameter: 50 mm
Roller pitch: 55 - 75 - 100 - 125 mm
Transmission: round belts
Module length: Max. 3,000 mm (consisting of a number of zones)
System length: unlimited
Speed: Approx. 1.8 - 39 m/min
Rated voltage: 24 V DC
Options:
Frame equipped with high or low profile
Type of control cards: Interroll DriveControl, Interroll ZoneControl, Interroll MultiControl, NDW BC50, NDW BP120 or PulseRoller ConveyLinx
Tape material
Integrated photocells
Pneumatic pusher
Transfer unit
Merge section
Roll-up section
Undercarriage
Adjustable side guide
For all options, we kindly ask you to
contact
us.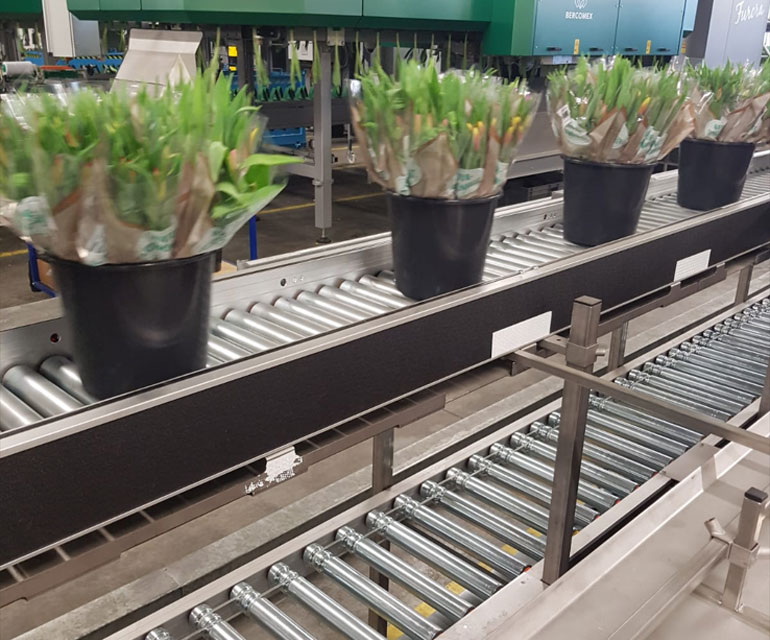 Online 3D configurator
The BCK configurator aims to quickly configure 3D models of powered roller conveyors type RD50 and download them to use in your own 3D designs. The 3D models can be downloaded as STEP, SAT or 3D DWG files.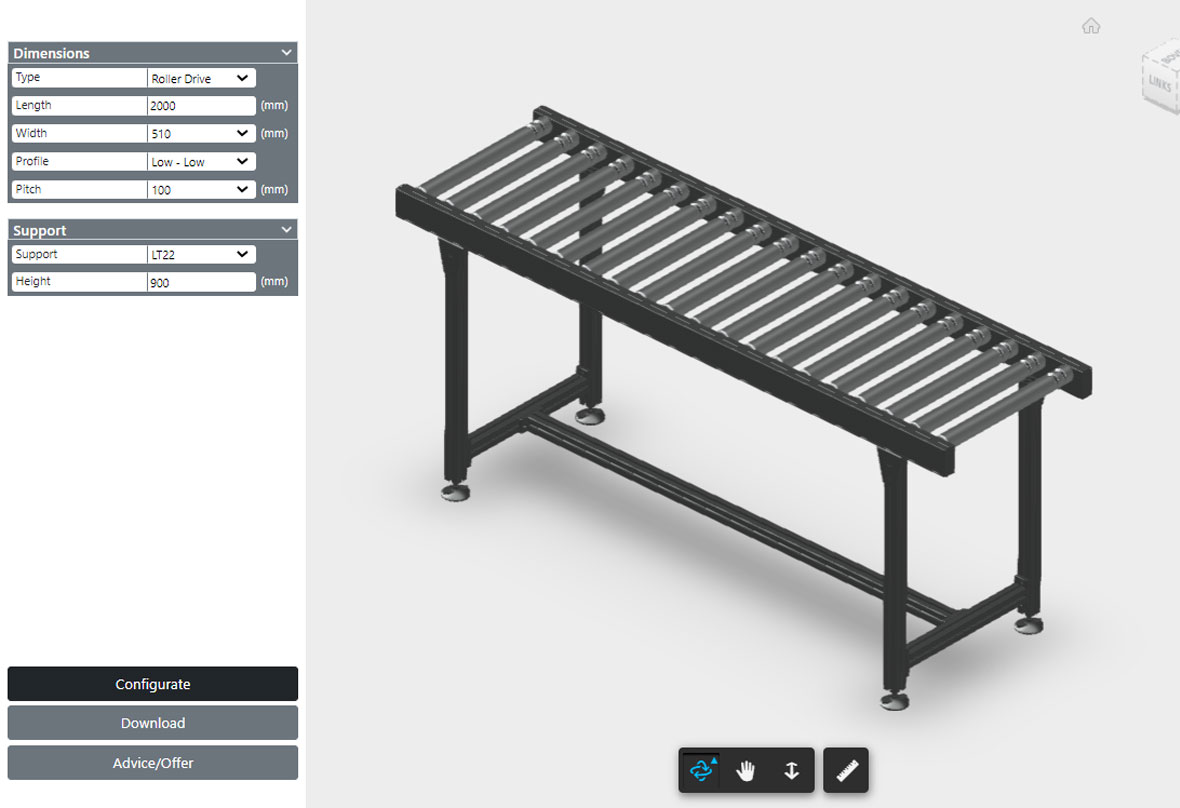 Practical example of a driven roller conveyor type RD50