Gravity roller conveyor type RBS
A gravity roller conveyor with stainless steel frame is often used in damp rooms and/or for products where stainless steel is required. The possibilities of stainless steel roller conveyors are endless.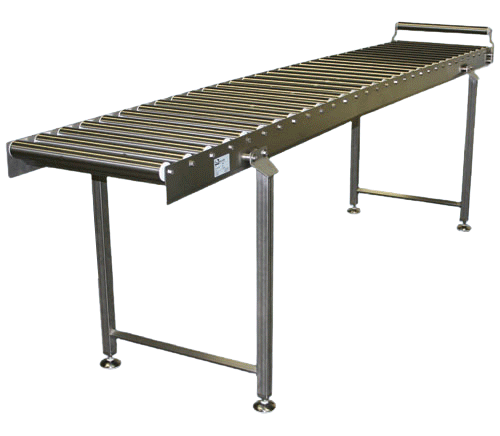 Terms of application
The RBS gravity roller conveyor is a versatile non-driven roller conveyor with a stainless steel frame. This versatile gravity roller conveyor has many variants and to apply the RBS roller conveyor, your application should meet the following conditions to ensure a long service life:
Environment: Dry to damp and clean to slightly dirty
Roller diameter: Ø20 / Ø30 / Ø50 mm
The stainless steel roller conveyors of BCK Holland B.V. are produced from stainless steel. The choice of material and the hygienic design make the stainless steel roller conveyors suitable for the food industry (HACCP environment), the pharmaceutical industry and the chemical industry, among others. Good cleanability is taken into account in the design phase by applying, as standard or as an option
rollers without continuous shaft
a foldable side guide
an open frame for good accessibility during cleaning
When defining the specifications of a stainless steel roller conveyor, it is important to know the cleaning conditions, as these have a major influence. The possibilities in dimensions, pitch, roller diameter, roller type (plastic or stainless steel), frames and side guides are endless. Should the stainless steel roller conveyor be used in an environment that is humid and does not have to comply with all food regulations, we also have a budget version.
Technical specifications
Basic: stainless steel set frame
Curve modules: 30°, 45°, 60°, 90° and 180°
Roller width: approx. 100 - 1,200 mm (very fast delivery: 410 - 510 - 610 mm)
Roller diameter: 50 mm (20 mm / 30 mm)
Roller pitch: 55 - 75 - 100 - 125 mm
System length: unlimited
Options:
Plastic or stainless steel rollers
Rollers with shaft hub or continuous shaft
Undercarriage
Adjustable or folding side guides
End stop
For all options, please
contact
us.