Belt conveyor type BS60
The BS60 belt conveyor is a hygienic transport solution. The folding idler roller and the stainless steel frame make it easy to clean. This hygienic belt conveyor with stainless steel frame owes its name to the standard diameter of the conveyor roller, which is about 60 mm.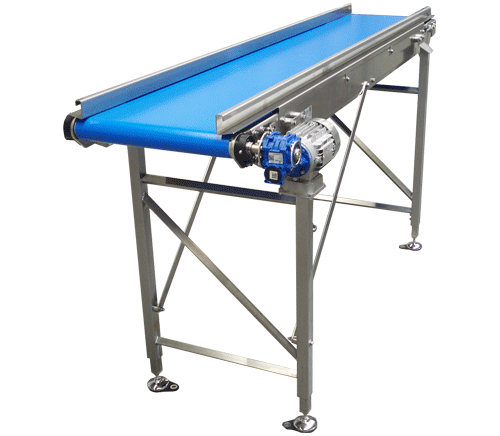 Terms of application
The BS60 belt conveyor is a hygienic transport solution. This versatile belt conveyor has many variants and in order to use the BS60 belt conveyor, your application should meet the following conditions to ensure a long service life:
Environment: Dry to moist and clean to slightly dirty
Roller diameter: Standard Ø60 mm (Ø16 knife edge)
The BS60 belt conveyor has a stainless steel set frame and is designed from the experience of our users. Thanks to the choice of materials and their hygienic design, the stainless steel belt conveyors are suitable for the food industry (HACCP environment), the pharmaceutical industry and the chemical industry. In the design phase, good cleanability is taken into account by standard or optional application of
a folding idler roller
a foldable side guide
a removable hopper
an FDA and/or HACCP-approved belt material
an easily removable belt
an open frame for good accessibility during cleaning
When determining the specifications of a stainless steel conveyor belt, it is important to know the cleaning conditions well, as these have a major influence. For example, if the work (and start-up) is done wet, the risk of vacuum migration of the belt material on the frame is very high. To prevent this, the drive roller is often coated, a heavier motor is used and/or bumps are punched in the sliding deck.
Partly because of the modular concept, it is possible to make various types of stainless steel belt conveyors of any type, such as a flat stainless steel belt conveyor, elevator, feeder conveyor, bunker conveyor, curve conveyor, vertical curved conveyor or Z conveyor.
Technical specifications
Basic: stainless steel frame with folding reverse side for cleaning purposes
Transport direction: unidirectional
Belt width: 300/350/400/450/500/600/700/800/900/1000/1200 mm
Length: 400 - 25,000 mm
Roller diameter: Ø60 mm (standard) / Ø16 mm (fixed or rolling knife edge)
Drive type: (in)direct end drive
Motor position: Combination of Left/Right and Pulling/Pushing
Speed: Max. 75 m/min (depending on version)
Type of rollers: aluminium hard-anodised roller / vulcanised roller / stainless steel roller
Geared motor: standard 3x230/400V, 50 Hz, IP55
Belt material: Choice of various brands, materials, frictions and colours
Options:
Basic frame fitted with a bend
Slide deck fitted with humps
Drive shaft fitted with a customer-specific shaft journal
Other motor gearbox configuration/brand or drum motor
Stainless steel transfer rollers Ø16 mm
Drive roller with various types of coverings (PVC sleeve or laminop) for more grip
Various types of belt accessories such as carriers, belts or mechanical connectors
Support/legs on adjustable feet or castors with brake
Side guide (fixed, adjustable or folding)
Electric control
For all options, please
contact
us.