Belt conveyor type N114
The N114 belt conveyor is the heaviest belt conveyor in its class. This robust modular belt conveyor with a high aluminium frame takes its name from the standard diameter of the conveyor roller, which is approx. 114 mm. The N114 performs best when used in a dry and clean to lightly polluted environment.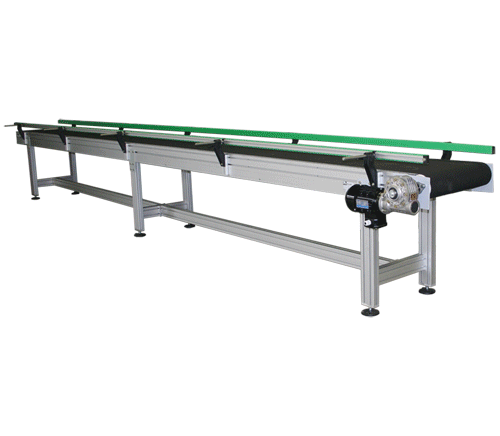 Terms of application
The N114 belt conveyor is the heaviest belt conveyor in its class. This versatile belt conveyor has many variants and in order to use the N114 belt conveyor, your application should meet the following conditions to ensure a long lifetime:
Environment: Dry and clean to slightly polluted
Roller diameter: Standard Ø114 mm (Ø108 for special widths)
The N114 belt conveyor has its own profile and is designed from experiences of our users. The T-slots in the N114 profile are designed so that standard fasteners can be tilted in from the side. This means that various components (such as side guides or photocells) can easily be fitted to the frame by us or the customer after delivery. The T-slots can also be sealed later with a plastic sealing profile.

By standardisation, the belt conveyors type N114 are available in various widths. Partly because of the modular concept, it is possible to make various versions such as a flat aluminium belt conveyor, elevator, feeding belt conveyor, bunker conveyor, articulated conveyor or Z conveyor.


Technical specifications
Basic: Aluminium frame with stainless steel sliding plate
Transport direction: Uni-directional
Belt width: 100/200/300/400/500/600/800/1000 - 2400 mm
Length: 700 - 25,000 mm
Roller diameter: Ø114 mm (standard) / Ø108 mm (for special widths)
Drive type: (in)direct end drive / (in)direct central drive
Motor position: Combination of Left/Right and Pulling/Pushing
Speed: Max. 125 m/min (depending on version)
Type of rollers: Standard aluminium hard anodised rollers
Geared motor: standard 3x230/400V, 50 Hz, IP55
Belt material: Choice of various brands, materials, frictions and colours
Options:
Basic frame fitted with a vertical curve
Basic frame fitted with extra intermediate beams
Drive shaft fitted with a customer-specific shaft journal
Other geared motor configuration/brand or drum motor
Drive roller fitted with various types of cover (PVC sleeve or laminop) for more grip
Various types of belt accessories such as flights, corrugated edges or a mechanical connector
Steering string
Stainless steel package: axles, bearings and fasteners are in stainless steel
Standard, telescopic or weighted support/legs
Support/legs on adjustable feet or castors with brake
Side guide (fixed or adjustable in green, black, blue or white)
Clectric control
For all options, please
contact
us.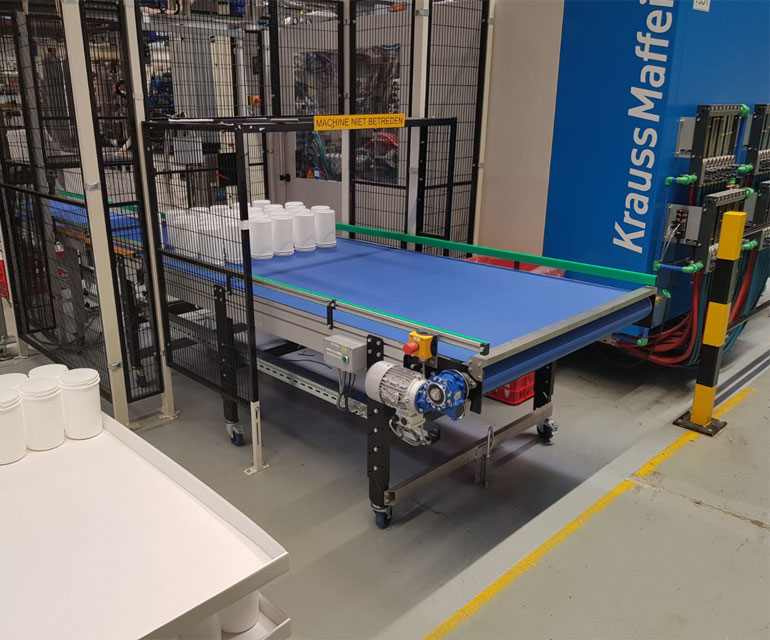 Online 3D configurator
The BCK configurator aims to quickly configure 3D models of type N114 flat belt conveyors and download them to use in your own 3D designs. The 3D models can be downloaded as STEP, SAT or 3D DWG files.